For Blocked Drains in Leeds and Surrounding Areas
We Offer A Same Day Service
---
Professional Drain Clearing Service
If you have a blocked drains, sinks or a toilet backing up that's needing sorted ASAP we have a Leeds Plumber that can often get there within an hour and operates a 24/7 service.
When hiring EmergencyMan you're only paying from the time of arrival, we don't ever charge call out fees.
If you suspect your boiler may be backed up we have Gas and Heating Engineers in Leeds
For any blockages in hot water heating systems we also specialise in Water Heater and Cylinder Repairs and Replacements
---
Drain Jetting Leeds
If you have outdoor blocked drains, pipes or manholes needing clearing we have an extensive set of drain rods. For the more stubborn blockages you may benefit from our drain jetting van.
Our drain jetting van is equipped with a high pressure drain jetting unit and unlike some drainage companies in Leeds we don't charge extra for the use of this. We believe that the use of this specialist equipment should always be just part of our day to day work rather than a more expensive option and we'll never factor in hire of this.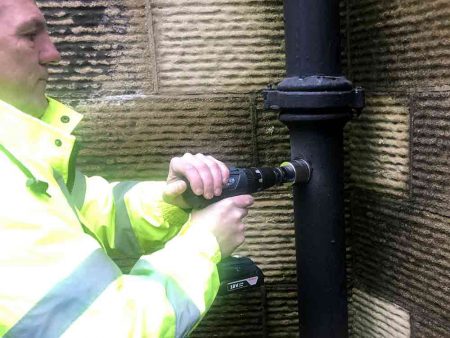 Access Hole Cut into Drainpipe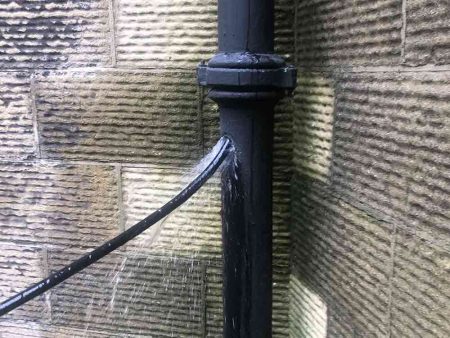 High Pressure Jet Clearing Blockage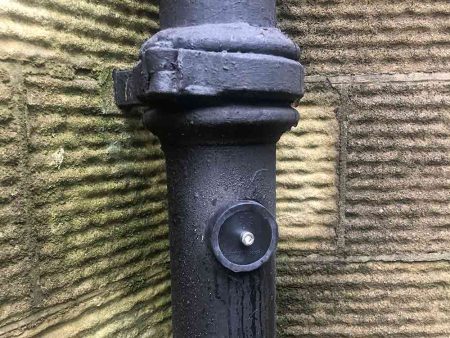 Access Hole Capped after Jetting
---
EmergencyMan have been clearing blocked drains for over 30 years, over that time we have built up a reputation for being professional in every way. We've many happy previous clients rating us highly for everything from punctuality and communications to standard of work and manners.
Jack's Blocked Drain
Jack from Leeds had another company come out to try and unblock his drain with no success. This company was kind enough to recommend our service and we were happy to oblige. We have a drain cleaning expert based in Leeds and he was able to get the job done in a relatively short time.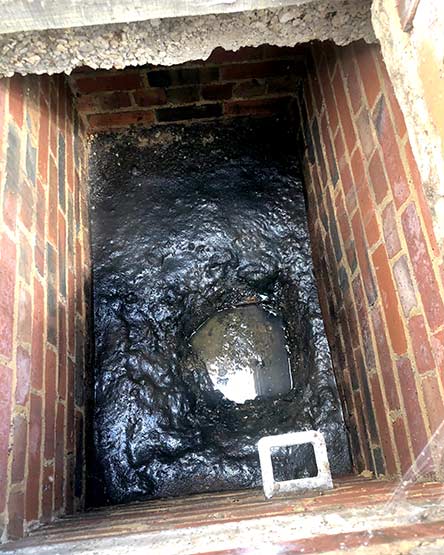 Had another plumbing company out to unblock our drains who couldn't clear it. They recommended emergencyman as they specialised in this department. After ringing them Keith arrived who explained he had 40 years experience in clearing drains and joked "if he couldn't do it, then nobody could". Within 15 minutes it was cleared. Very professional service.
Mark's Blocked Drain
For the more stubborn drain blockages we have a high power drain jetting unit that's very effective. When Mark from Leeds gave us a call we had the unit ready to go and were able to set off straight away. Mark soon found out that when we say we can be there within an hour sometimes that can be as little as 30 mins!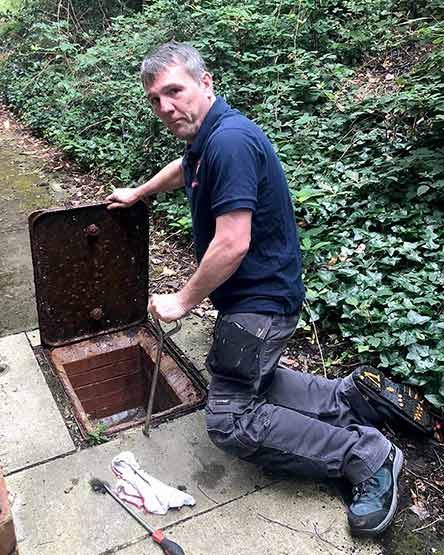 Called the Emergencyman for a blocked drain, he turned up within 30 minutes and sorted it out. Very professional service, he jetted the drain system and I have had no issues since.
---
Reviews Displayed on our Google Business Listing
---
Typical Services For Drains
Blocked Drains

Blocked Sinks

Root Clearances

Drain Repairs

CCTV Drain Surveys
---
CCTV Drain Surveys
There's no point in simply clearing drains if there is an underlying problem that will cause further blockages over a period of time. Where we suspect there might be such issues you can have us carry out a CCTV camera survey of the drains and pipes in question.
A CCTV survey on your drain can reveal any defects, cracks or holes requiring attention. Damage to drains and pipes may be allowing in root trees and other debris and after detecting such damage we can advise you on the best course of action.
---
OAP Discounts and No Hidden Fees
Pensioners can ask us about our OAP discounts which are available for much of the work we do.
We have fixed hourly rates which are itemised on our invoices along with materials used and you'll find no hidden fees or nasty surprises. Furthermore, we don't expect you to pay until you are satisfied that the work has been done properly.
To make it easy for you, we offer various ways to pay (including by telephone) and there are no additional charges for payment by card.
Interesting Facts About Leeds
Did you know that the name Leeds derives from the old Brythonic word Ladenses meaning "people of the fast-flowing river", in reference to the River Aire that flows through the city?
Find out more interesting facts on the Leeds Wikipedia page https://en.wikipedia.org/wiki/Leeds
---

At EmergencyMan we don't just repair hot water systems, we also replace them.
We can replace your existing copper cylinder with a high efficiency modern cylinder that is more efficient and has better flow rates.

At EmergencyMan we don't just repair gas combination boilers, we replace them too.
If your old boiler is becoming less efficient and on its last legs it is costing you extra money to heat your home and water.
---
For A Same Day Service

With No Call Out Fee
Tel: 0113 232 9556
Freephone: 0800 224 8365
---
Share This Page